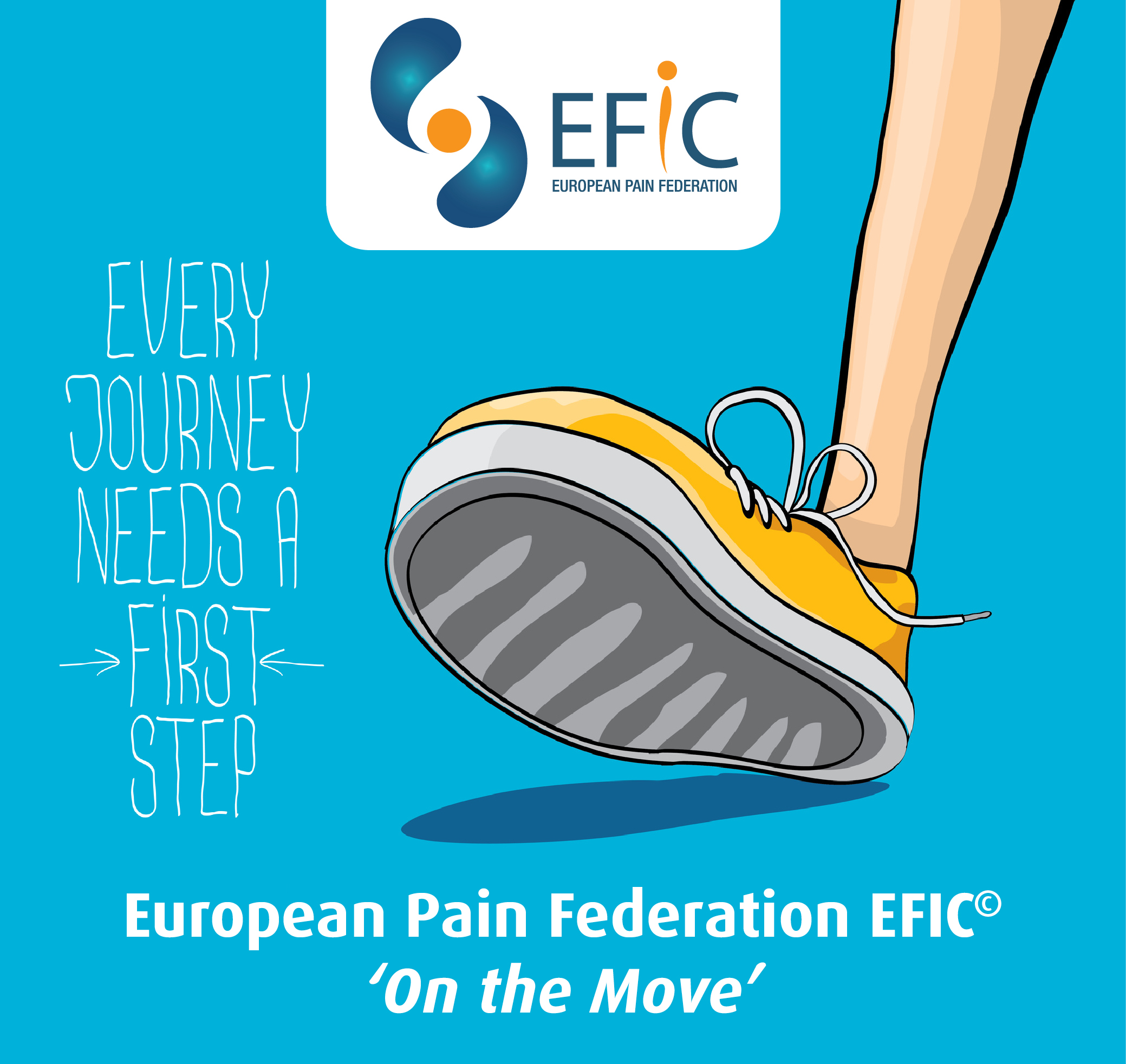 EFIC ON THE MOVE
Physical activity´s well known health benefits include a reduced risk of cancer, cardiovascular disease, diabetes and improved mental health. What is less well known is that greater levels of physical activity and exercise are also associated with a lower risk of developing chronic pain. Chronic pain is defined as pain on a daily basis for 12 weeks. It is a significant health issue affecting between 12-30% Europeans.
The cost to the economy is enormous in terms of healthcare costs and lost productivity (2.2% of GDP in Germany, 2.8% in Ireland and 1.7% in the Netherlands).
Thus, our president Bart Morlion has launched the idea of a presidential campaign, that will run across the three-year mandate of each President. The theme for 2017-2020 is 'EFIC On the Move' focusing on the importance of physical activity in preventing primary and secondary pain.
Factsheet: EFIC On the move at a glance
OUR CALL TO ACTION
All healthcare professionals should advise patients on the importance of physical activity and the role that  physical activity plays in the prevention of chronic pain. This requires knowledge, motivation, empowerment (using language that patients understand), a physical environment that facilitates change and a plan that helps them to persevere.
Physical activity and pain : few fact
Physical activity:
Reduces a person's chance of developing low back pain by 40%.
Reduces a person's chance of developing osteoarthritis by 50% (e.g. hip and knees).
Increased frequency, duration, and intensity of exercise are associated with less chronic pain when age,education, and smoking are taken into account.
Reduces the chance amongst 20-64 year olds of developing chronic pain by 10-12% compared with those
who don't exercise.
In older women it reduces the chance of developing chronic pain by 21–38% compared with those who are
not exercising.
Older people who exercise more regularly, for longer and at a higher intensity are less likely to develop
chronic pain.
People in working age who exercise 3-5 times a week are also less likely to develop chronic pain.
Campaing Milestones
Working group of patients, medical doctors and physiotherapists joined forces to define campaign goals and focus under the leadership of EFIC Presiden Elect, Brona Fullen
First brainstorm meeting in the European Parliament June 2018
In 2019, the European Region of the World Congress of Physical Therapy joins the campaign to co-produce On the move infographic, summarizing the key messages of the campaign
EFIC on the move featured during the European Public Health Week 2019
EFIC on the move as a prominent theme of the EFIC 2019 congress
NEXT: EFIC on the move themes and messages to feed into 2020 Global and European Year for Pain Prevention organized with the International Association for the Study of Pain (IASP).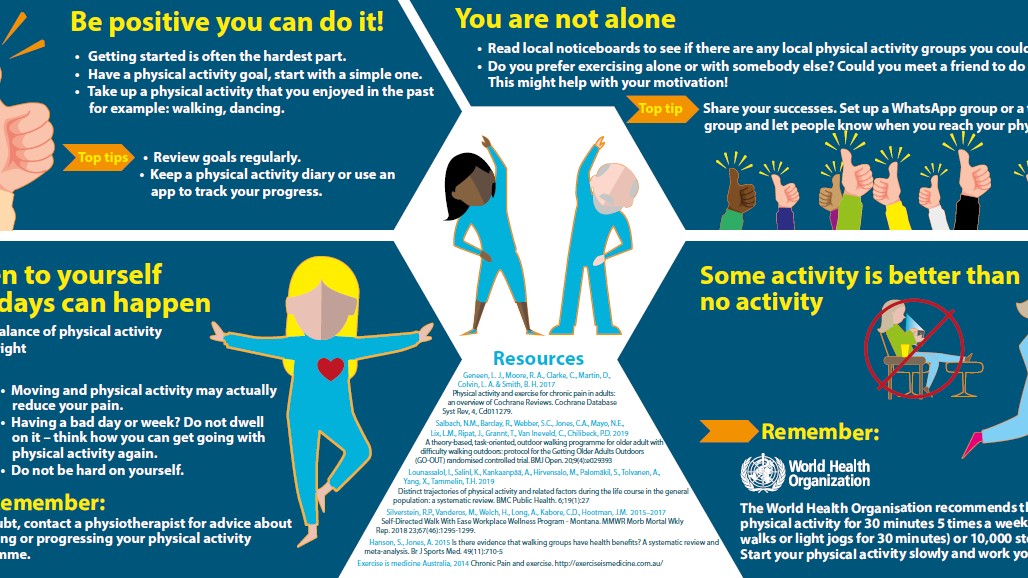 Tips for people living with pain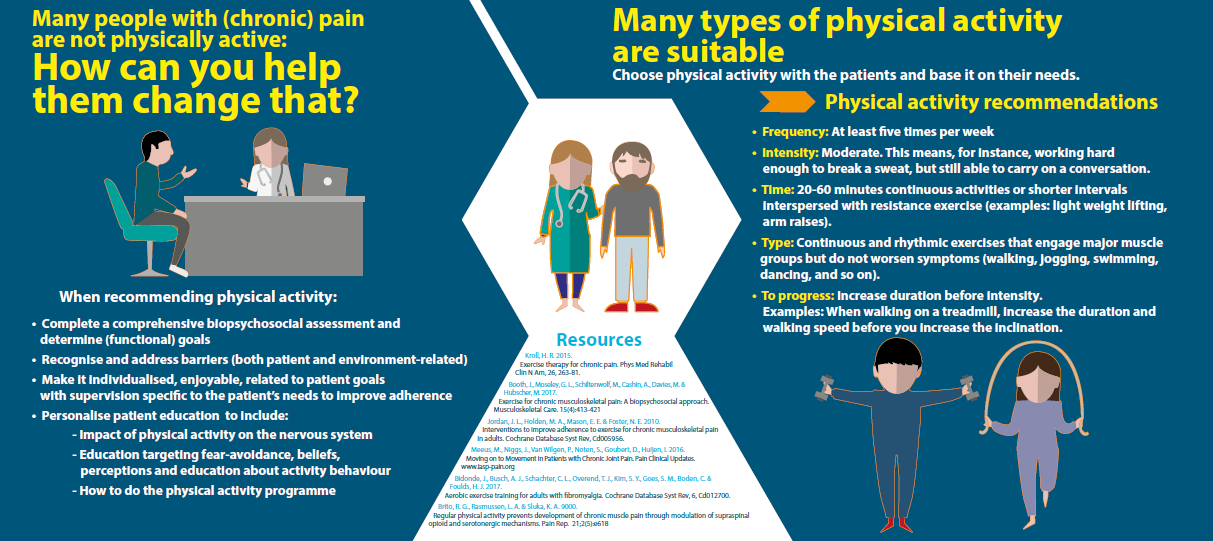 Video: Tips for healthcare professional on recommending physical activity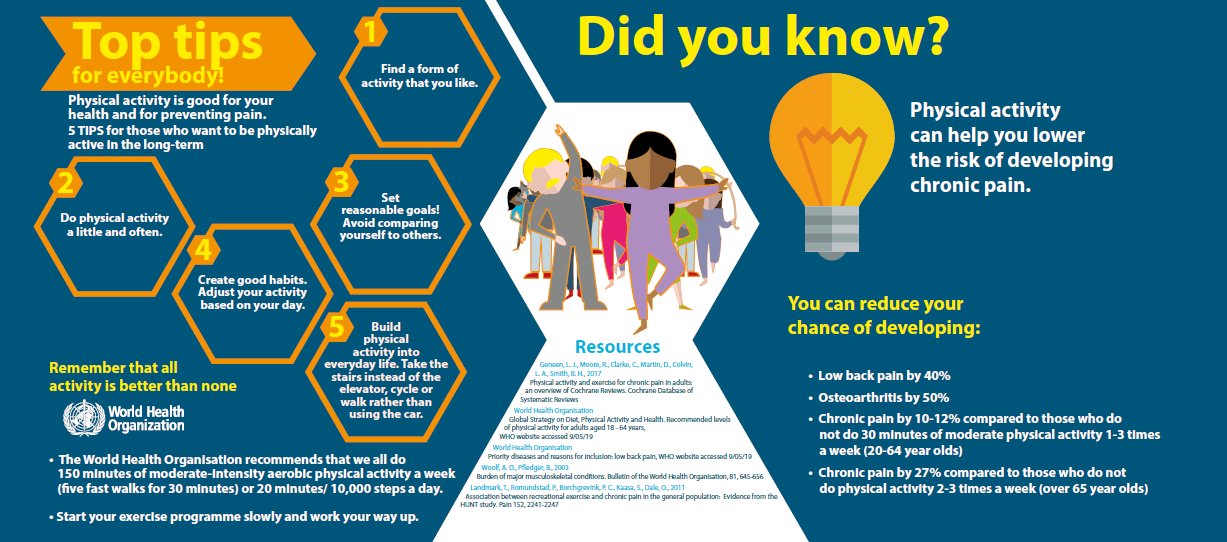 Tips for the General Public
Video: Tips for general public on the importance of physical activity to prevent pain